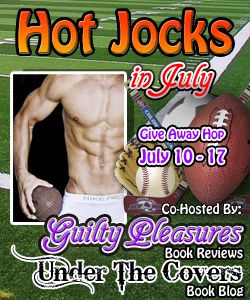 Do football or baseball butts drive you nuts? Do you love to see sweaty men chasing after each other? Tackling each other? Does the sight of a pair of sexy calves kicking a ball down field heat you up? Do NASCAR drivers rev your engine?
YES to all of the above for the
GP Review Crew
and the
UTC Maidens
. Even though it's summer, nothing's stopping us from HEATING up our days and nights with HOT JOCKS! Join
Guilty Pleasures
and
Under The Covers
for locker room talk about some of our favorite JOCK romances.
Do you have a favorite sports themed book or series? Is there a real life athlete who you can see as your favorite hero from a sports themed romance? We would love to know your favorites!


Welcome, fellow admirers of the althletic build! I certainly appreciate a well-defined-clean-cut-thighs-that-could-crack-a-walnut jock. Phew! My heart rate speeds at the delicious thought... Arrgh! In fact, my first romance novel, Claiming The Prize is about just such a body, er....bodies. There are a few nicely hewn distractions in addition to my hero, Drago Zadrovec!
Step into the world of MMA for an afternoon of bloodsport and romance...
Claiming The Prize
Walking a solitary, disciplined path in his pursuit to become the light heavyweight champion of the American-Mixed-Martial-Arts-Organization, Drago Zadrovec leaves the security of his homeland to train in the United States. But once within the exclusive MMA organization, Drago finds himself increasingly drawn to his mentor's daughter, Grace Antolini. Quiet and gentle, yet thoroughly immersed in the world in which he exists, Grace captures his heart as firmly as his quest for the title, igniting a long buried passion inside the fighter. Subjecting his body to the brutality of the cage and opening his heart to the woman he desires to share his life with, Drago comes to understand that his journey is comprised of more than want of victory in the ultimate goal of Claiming The Prize......
a Rafflecopter giveaway
~ Nadja