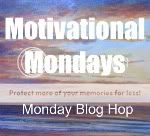 Blog Hopping For Motivational Mondays.........
Hosted by http://canadianmom-whatsonmymind.blogspot.com/2011/03/motivational-monday-blog-hop-031411.html
Her motivational quote for the day -
"True motivation comes from within - from the willingness to see a dream fulfilled - from the desire to leave the world better than you found it."
-
Steve Brunkhorst
As part of the blog hop, each 'hopper' is asked to share a motivational quote, poem, story, etc. for others who stop by for some motivation. Here's my offering..........
Over the weekend, MMA fighter, John Jones won a decisive victory in the ring against a well-known and capable opponent, Shogun Rua. It was his day to shine. Earlier in the day while meditating in a park near the arena in New Jersey, John Jones heard the cries of what turned out to be the victim of a purse snatcher. Fresh from his 'quiet time', Mr. Jones chased down the culprit (more than a mile) before using those well trained legs to head kick the criminal, subdue him, and wait for police. All this before a main event fight later in the evening! What does Mr. Jones have tattooed on his chest........
Philippians 4:13 - "I can do all things through him who gives me power."
Now that's motivational! ~Nadja