Hello! Nadja here with my top pics for the week! Stop by and check out this blog in your travels ...
Romance And Beyond...
is a blog site I discovered through the Writer's Platform Building Campaign, and I'm so very glad I did. Carole, Sharon, & Sherry all met through their writing, and these ladies have a terrific set up at Romance And Beyond! There are many guest blogs, and each of the ladies features posts on a variety of subjects. Each author has an excerpt page, and I enjoyed reading them so much that I decided to feature them this week! Happy Reading!
Sherry Isaac's Excerpts
Here's Another Great Blog I discovered this week...
Vive Le Nerd
, (blogging by Joshua), is another I'd happily recommend. From musings on home life to sparking the creative muse to 'You've Got Random On Your Face', this blog entertained. I found a couple great links along with the laughs, too.
Progress On The Writing Front...
I've cracked out a few pages in chapter nine of Her Dark Baron since my last post, breaking the 20K word mark and leaving only 5K to wrap up this little novella. I've got a challenge. Anyway, writing a flash-fiction piece for the Campaign challenge and joining the Rule Of Three Blogfest gave my writing the 'jump-start' I needed. Hmmm. Maybe this will be a habit I'll need to foster....
I'm enjoying writing flash-fiction quite a bit. Fellow ROW80 author
Gene Lempp
(Another great blog you'll want to check out....this author's Designing From Bones series is one of my favorite weekly reads) had suggested writing short pieces to stir up the creative juices by developing ads, jingles, and such. When I heard about the first Campaign Challenge, I was hesitant to join as I'd never done anything like that before, but I figured, what the heck! I'm so glad I did. Since that first piece I wrote, I've written two more and also joined the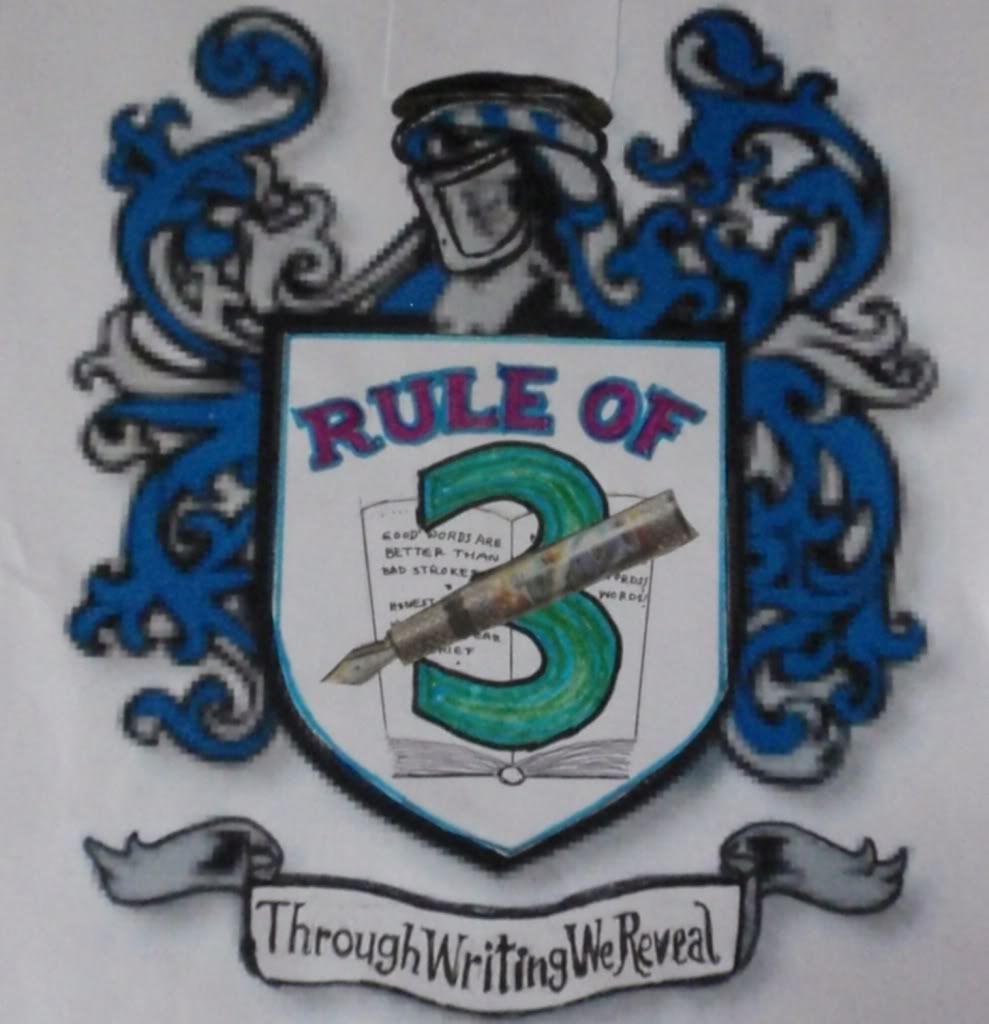 Rule Of Three Blogfest
. I'll chronicle my escapades in flash-fiction later....
Writing Front Comforts....
Last week, I re-posted a question put out there by Katy Upperman asking about your favorite writing nooks. I've been thinking about that question all week. So...I decided to post pics of my usual habit...home.
This is my favorite place to write when at home. The kitchen has good light, and because it's the room where dishes are washed, it's often quiet and peaceful... Well, at least when my husband or three sons aren't looking for 'something to eat'....I'd rather feed an army than one of my boys when they're 'not-that-hungry'!
Here's the old notebook and pencil...I always write out my stories longhand first.
...another view of the 'FAV-SPOT' :)
Zutchka has nothing to do with my writing, other than the fact that he usually flops on the floor beside my chair while I scribble my stories down. Isn't he the cutest, most handsome hound ever? (Okay...second most handsome if you have a dog of your own...)
Sometimes I write in the front room...not too often, though. I like sitting on my comfy sofa, but there's usually someone watching television nearby, and that distracts me. After everyone goes to bed, I'll sneak in once in awhile for a cozy 'session'. This is my favorite reading nook, and you'll find me curled up here with a book a couple of nights a week.
Hope you all are having a great weekend....I'm off to watch UFC 135! Nick Ring will fight on the pre-lims tonight - (we've been following him for some time), Matt Hughes will fight Josh Koscheck, and Rampage Jackson faces Jon-Bones-Jones....it's going to be a great night! ~ Nadja