Welcome to my giveaway for the Dreaming Of Books Giveaway Hop!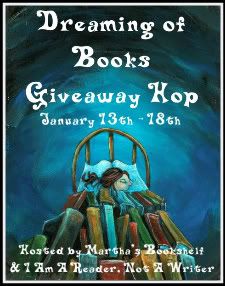 The giveaway will run from 13 January, 2012, through 18 January, 2012. A special thank you to our hosts,
I Am A Reader, Not A Writer
and
Martha's Bookshelf
.
With over 200 participating authors and readers, there's sure to be a giveaway for everyone.
Do you dream of books? I sure do! I love just about all books. So when I saw this hop, I immediately signed up to participate. My favorite genre to curl up with for relaxation is romance, and I'm offering my latest historical romance, Her Dark Baron, to three lucky winners. Thank you for stopping by and good luck. Visit around and enter the many giveaways in Dreaming Of Books, too.
Here's how to enter...
* Follow my blog, or sign up via email.
* Leave a comment with your name and email in this format -
nadja (dot) notariani (at) gmail (dot) com - so I can contact you if you are a winner!
* For an additional entry, become a fan on Goodreads. Make sure you let me know in your comment.
I will be giving away a Kindle (or other reader/e-pub) book of my latest novella, Her Dark Baron and a $10.00 Amazon gift card to one grand prize winner. In addition, two more readers will win Her Dark Baron to add to their Kindle (or other reader).